Metal Energy Corp. has successfully completed the acquisition of additional mining claims adjacent to its SourceRock Project in the Thunder Bay-Nipigon area of northwestern Ontario. The newly acquired area is highly prospective for lithium brines, adding significant value to the company's exploration portfolio.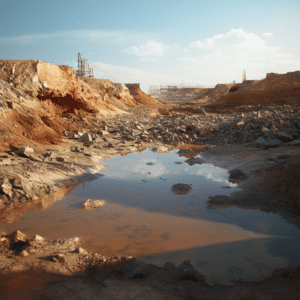 The acquired claims were previously drilled in 2006, revealing promising results. Significant saline water flow was encountered at depths ranging from 184.7 to 202.39 meters, accompanied by the presence of halite cubes, sedimentary cements, and beds. The core samples indicated the precipitation of halite from supersaturated saline fluids, suggesting high concentrations of total dissolved solids (TDS), which are often associated with elevated lithium concentrations.
The SourceRock Project covers an extensive area of 91,288 hectares within the Proterozoic Sibley sedimentary basin. Its strategic location provides excellent access to infrastructure, including year-round highway, railroad, and seaport access, as well as power and natural gas lines.
Metal Energy entered into a Purchase Agreement with an arm's length vendor to acquire a 100% interest in nine adjacent mining claims spanning 189 hectares. The terms of the agreement include issuing the vendor 1,800,000 common shares of Metal Energy and a cash payment of $10,000. Metal Energy will assume the role of operator for the newly acquired claims, taking responsibility for all work programs on the SourceRock Project.
In addition to the consideration mentioned above, the vendor retains a 2% Gross Value Royalty (GVR) on the claims. Metal Energy holds the right to purchase 1% of the GVR from the vendor for $1,000,000 at any time.

This expansion of Metal Energy's land holdings at the SourceRock Project signifies the company's commitment to advancing its exploration efforts for lithium brines. With the additional acreage and promising geological indicators, Metal Energy is well-positioned to accelerate its exploration activities and unlock the potential of the Thunder Bay-Nipigon area as a significant source of lithium resources.